Slogan: kill thief to win the special card "Germany" !
Event –4-star special card "Germany" will drop from thief! Hurry up!
Time: June 23th, 2014 00:00:00 until July 6th, 2014 23:59:59 (EST)
Server: Gaia, Titan, Mars, Athena, Zeus, Poseidon, Ares, Hades, Apollo, Frigg, Odin, Rhea, Achilles, Thor, Loki, Sif
Content: During the event, you will have a chance to get 4-star special card "Germany" through killing the thief. 
Notice:  1. This card will not be available in thief after event.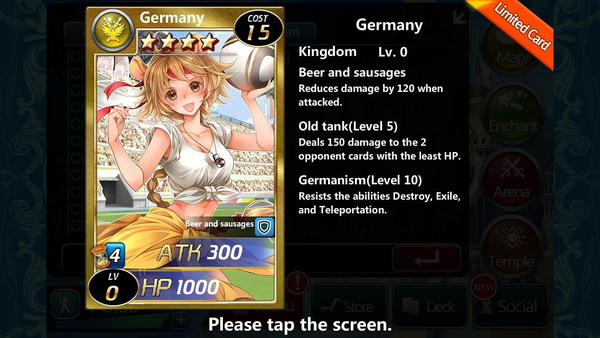 Ad blocker interference detected!
Wikia is a free-to-use site that makes money from advertising. We have a modified experience for viewers using ad blockers

Wikia is not accessible if you've made further modifications. Remove the custom ad blocker rule(s) and the page will load as expected.